LIVE PROGRAM - REAL ESTATE CUSTOMER CENTRICITY
The Real Estate Management Institute – REMI, launches a unique Live Program on Customer Centricity in Real Estate, a 5 week program designed specially to create a holistic understanding of what customer centricity entails and its benefits and applicability to the real estate industry. This program will be 100% live and can be accessed from anywhere. The course will include case discussions, individual and group assignments, Q & A's and sessions which will provide a comprehensive exposure to the attendees. Industry experts will interact, faculty will deliver lectures and the attendees will collaborate in real time and will be marked for their attendance and engagement during the course.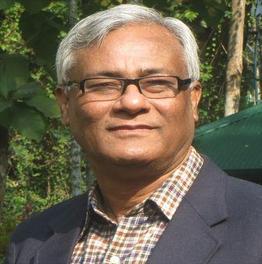 PROF. RANJAN DAS,
PROFESSOR OF STRATEGY, INNOVATION, ENTREPRENEURSHIP AND LEADERSHIP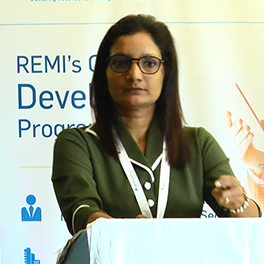 MARIA COELHO.
ACADEMIC HEAD - THE REAL ESTATE MANAGEMENT INSTITUTE (REMI)

Contemporary content in the area of customer centricity

All sessions are outside working hours

Emphasis on attendance and active participation in class discussions

Online Group work and submissions

Action learning project – specific to each participant's job context

Multi-element Assessment

Concepts and interactive discussions led by faculty

Experience sharing by industry professionals and participants

Customer centric case studies which will highlight the course content
Executives working in Real Estate Industry such areas as sales and marketing and customer services.
Senior managers of Real Estate companies responsible for developing strategy, management of brand and customer relation management.
Sales and marketing professionals and faculty members interested.
Real Estate Entrepreneur and developers.

Understanding Customers - a fresh perspective

The Importance of customer centricity in real estate

Managing for value – Value To Customer [VTC] and Value Of Customer [VOC]

Understanding customer centricity

Using customer complaints to develop a customer centric approach to selling

Customer centric approach to innovation

Concept of Net promoter System – rationale and ways to implement it

Customer centricity in the digital era

Professional selling – A customer centric approach

Re-organizing around customers

Building and maintaining a customer centric culture
SESSION TIMING:
Conducted twice a week
Tuesdays 8:00 p.m. to 10:00 p.m.
Saturdays 2:00 p.m. to 4:00 p.m.
ASSESSMENT
Multi-element Evaluation and Grading based on 4 parameters Regularity of attendance, Number and quality of questions asked during the sessions, Action Learning Project and Performance at online examination (open book)
CERTIFICATE AND GRADES
To be issued by Real Estate Management Institute (REMI) and The Strategy Academy Centre for Advanced Studies (TSACAS)
FEE
Rs.25, 000/- inclusive of tax
For existing REMI students or REMI alumni: Rs.20, 000/- inclusive of tax
It was a very good opportunity for attendees and the speakers to participate in REMI's Owner Developer program ODP. It is a great program in terms of knowledge sharing and it's very important to understand the various stakeholders at play and the way the industry functions. REMI is playing a very important role in bringing all the real estate stake holders together and the way the program has been organized is a great opportunity to learn and grow within the real estate industry.
Sandeep Dave
Partner - Cyril Amarchand Mangaldas
When I walked into REMI's ODP session room I had no clue what the expectation was of the students were, but when I overheard their conversation of their experience at the ODP program I realized that this is such a great opportunity for learning. So many promoters and business leaders from the real estate sector in one room created such a great platform for learning and knowledge sharing. The experience was unbelievable and it's a great feeling that I'll carry along.
Gulam Zia
Executive Director - Knight Frank
With the advent of new act we do need a lot of knowledge session and there's a huge gap for the right understanding of the law and these kind of session will input the right piece of information. As an Industry practice it's the best initiative.
Mr. Sarthak Shah
AVP Legal - TATA Housing Dev. Co. Ltd.
REMI is doing a good job, ODP is a good initiative taken by REMI of educating the students. The knowledge gained at the ODP course will definitely help the attendees in future.
Mr. Manoj Dubal
Immediate Past President - PEATA
REMI has taken a good initiative, it's a good program organized. It will help spreading new things across in a much better way. ODP program is a very useful tool to learn new things.
Eric Haupstein
Head Engineering - Mahindra Lifespaces
I think it ODP is a great program initiated by REMI in terms of bringing people from the real estate industry together and looking at what is new in the industry and giving an opportunity to learn the new things.
Mr. Sumit Chowdhury
CEO - Gaia Smart City
I met a very diverse group of people at ODP. The good thing about the program is the way the program has been structured, it has a combination of regulatory input followed with policies and then actual implementation of the learning in the organization. I'm sure each of the attendees will go back with something that they can implement.
Dr. Ranjan Banerjee
- S.P. Jain Institute of Management Research
One of the biggest USP's of the ODP program is the application of learning that can be implemented on day to day business. We met a lot of people from the sector which created a great networking platform. I highly recommend REMI to those who are looking to start a career in the Real Estate Sector.
Samyag Shah
Director - Marathon Realty
I have been attending the Owner Developer Program (ODP) by REMI and it has been a very good experience. The concepts like RERA were covered which is very important to learn in the Real Estate Industry. Not only RERA but also other aspects such as accounting, project feasibility etc. were discussed which were very informative.
Jatin Ahuja
Director - Madhu Develop