How do I optimize my ROI on social media platforms?
How can I increase my business reach to the maximum audiences?
Why am I getting less likes on my posts?
Which is the best platform to promote my projects?
Multiple questions and erupting opinions lit up the 1st session of Digital Marketing in Real Estate.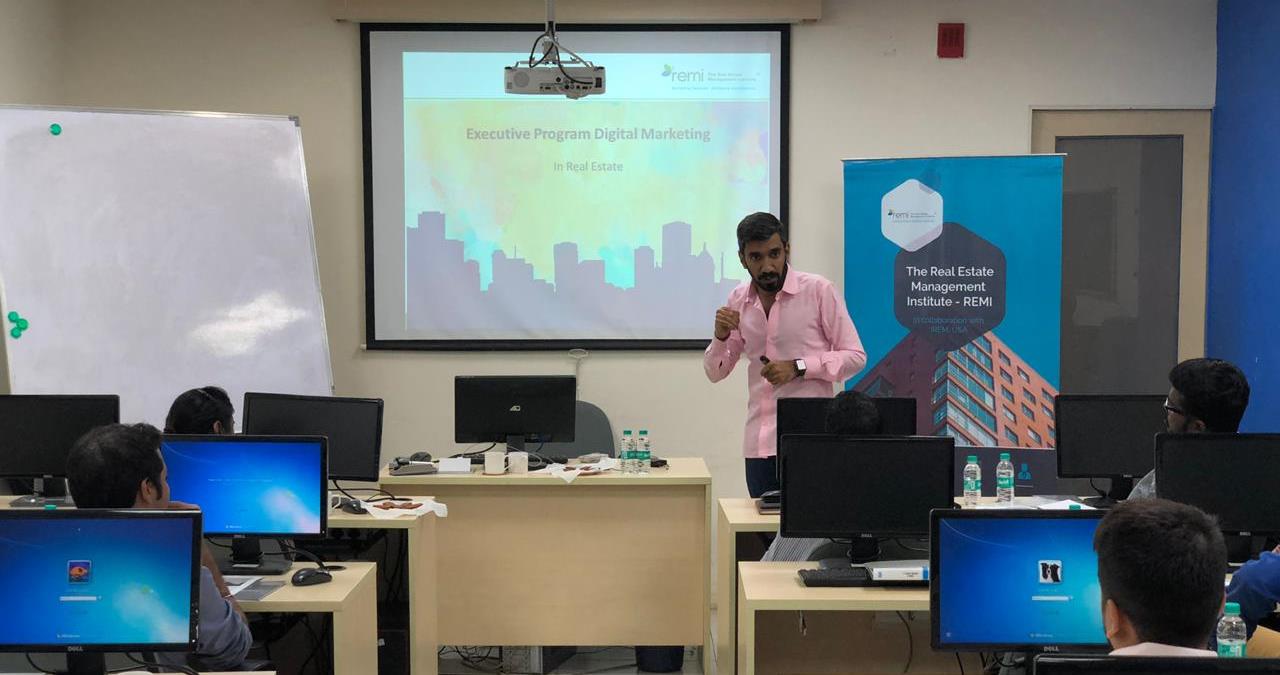 One of the most uniquely designed short term programs, this one enthralled the attendees despite their varied backgrounds. All of the participants came with their own objectives and goals and participated with enthusiasm. Notable among them were marketing department decision makers of groups such as Rustomjee, Lodha, Tridhatu, Suvidha Lifespaces and Narang Reality to name a few… The session was delivered by a domain expert, Krish Ramnani, Co-founder Togglehead.
In the midst of #TuesdayThoughts trending on social media, the 3 hour session was in perfect sync with social media pages and trends relevant to the real estate industry. Each segment was narrated with real-time examples setting a perfect tone for the entire program.
The conversation gradually moved to de-briefing on the technicalities of algorithms, targeting and influencer marketing
'No jargons applied' as promised by the speaker and the promise was kept!
The entire flow of events was simplified in layman terms to make it easy to remember. Despite having some working knowledge about the same I still felt so new to the field that I came away thinking : 'It has so much to it and so less do I know.'
Let me try to capture some elements of the sessions here:
Reiterating Krish's words, a digital marketer par excellence himself : All Indians take super pride in our mobile phones irrespective of our socio economic backgrounds. All have invested heavily for the HD experience. Then why not give them the quality that they are looking for – the stage was set for a very real and factual proposition that is the foundation of this whole digital medium.
Krish defined 'Quality' by emphasizing the 'quality of content'.
'Content is the King', he reiterated "so make your content more relatable for the readers to connect with you, because the moment they trust you, they are the easiest to close." – True words of wisdom!'

Here's one more -"With over 1000+ content that a person gets acquainted with each day, give them a reason to read yours."
He then took us into a further understanding of some key terms.
Moving from content to digital assets and then the riders of your campaign… one major key takeaway of the session was 'What I invest on is not what I spend on'
In general, one assigns their marketing budget to an agency for creative and content assistance, however in actual what they spend on is the impressions. Now this was quite an eye-opener for me.
I was left with the thought – We have trained our minds to trigger with the swipe of a screen. Isn't it high time we learnt to optimize the attention span for our organizational benefit?
With this very interesting input the 1st Session came to an end.
Really looking forward to some more insights from the 2nd session happening this Thursday, March 07th, at REMI
About REMI
The Real Estate Management Institute- REMI is a leading educational institute in India that provides programs specially designed for the real estate industry. REMI was established with a vision to 'Skill India to Build India' to contribute to industry development through training programs and to facilitate individual careers, as well as enhance leadership for existing real estate professionals.
REMI currently provides certification programs, executive courses and customized training workshops specially designed for the real estate industry. Our programs are run using the Socratic style of teaching, as we offer world-class best practices and a global curriculum to enable new entrants, early-stage professionals, entrepreneurs and leaders adapt to the evolving regulatory regime.
REMI is a pioneer in the field of real estate education in India having trained 2400+ People since our inception. REMI has over 320+ Corporate Association, 180+ Affiliated Visiting Experts and offers 100% Internship and Placement through a dedicated Career Development Centre (CDC). We are constantly exploring new dimensions and partnerships to help us stay ahead. Some of our partnerships include collaboration with The Institute of Real Estate Management (IREM), USA, Practicing Engineers, Architects and Town Planners Association (PEATA), Habitat for Humanity, and Members of Credai MCHI among others.
Our flagship Certifications in Business Management and Housing Finance (BMF 201), the Broker Certification Program (BCP 201),the Owner Developer Program (ODP) are just the tip of the iceberg. Our ability to curate industry-relevant programs with experts and thought leaders is our specialty. We currently offer 30+ programs for real estate.
---