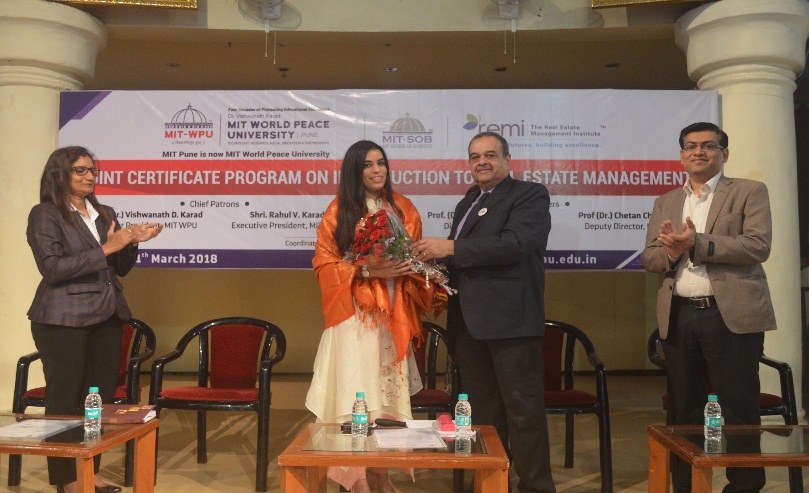 The 3 day REMI – MIT-WPU Certification program on Introduction to the Real Estate was delivered successfully by the REMI team at the MIT-WPU campus in Pune. The attendees were ~180 MBA students from the HR, Marketing, Finance and Operations Streams.
The program was conducted over 3 Days and included lectures, activities and engaging sessions with experts.
Day 1
The program started with a simple yet traditional ceremony of lamp lighting and a Sanskrit prayer followed by a welcoming ceremony with a shawl presentation to the Director of REMI- Shubika Bilkha.
After the Director – MIT SOB, Prof Kalyan Swarup gave his opening address, it was Shubika's turn to launch the program with the introductory session on Real estate. The students were led to understand the real estate sector, its growth, challenges and opportunities.
The students were then divided into groups and they were given the task of naming their groups (on a construction related theme) and coming up with a group slogan that resulted in some innovative group names and 'tag' line. Some of the popular ones were:
#Strong Bricks – Stronger the base, longer the life
#VR Developers – Reel to Reality
#Bob the Builder – We build tomorrow
#Apna Makaan – Sabka Sapna, Ghar Apa
#Concrete – Future built today
The students were then led to session 2 which was on Legal aspects, Terminologies and Land Zoning for the next 2 hours with a lunch break in between.
This session was very important and gave the students a good and simple understanding of some of the important aspects. Basic terms like FSI, TDR, DP, DCR, different types of lands and zones for development etc. were simplified and explained.
The afternoon session included an Organisational Structures in real estate and a session to give students an understanding of cost sheet. The student groups were asked to create and present a moving vehicle using each and every member of their team as a precursor to the Organisational Structure session. The Cost Sheet session simplified the basic Sales cost sheet that forms the basic document shown to a flat buyer.
The entire day was delivered by REMI's faculty.
---
About REMI
The Real Estate Management Institute- REMI is a leading educational institute in India that provides programs specially designed for the real estate industry. REMI was established with a vision to 'Skill India to Build India' to contribute to industry development through training programs and to facilitate individual careers, as well as enhance leadership for existing real estate professionals.
REMI currently provides certification programs, executive courses and customized training workshops specially designed for the real estate industry. Our programs are run using the Socratic style of teaching, as we offer world-class best practices and a global curriculum to enable new entrants, early-stage professionals, entrepreneurs and leaders adapt to the evolving regulatory regime.
REMI is a pioneer in the field of real estate education in India having trained 2400+ People since our inception. REMI has over 320+ Corporate Association, 180+ Affiliated Visiting Experts and offers 100% Internship and Placement through a dedicated Career Development Centre (CDC). We are constantly exploring new dimensions and partnerships to help us stay ahead. Some of our partnerships include collaboration with The Institute of Real Estate Management (IREM), USA, Ganpat University in Ahmedabad, Practicing Engineers, Architects and Town Planners Association (PEATA), Habitat for Humanity, among others.
Our flagship Certifications in Business Management and Housing Finance (BMF 201), the Broker Certification Program (BCP 201),the Owner Developer Program (ODP) are just the tip of the iceberg. Our ability to curate industry-relevant programs with experts and thought leaders is our specialty. We currently offer 30+ programs for real estate.
---