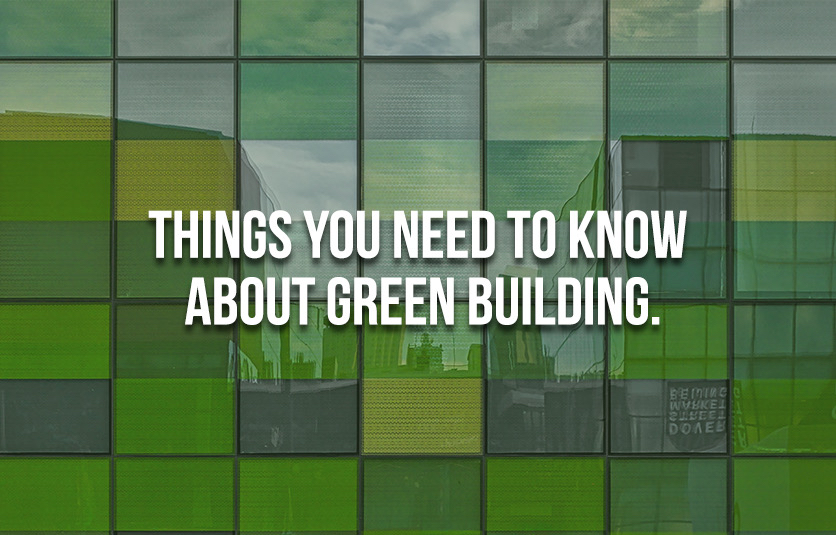 Building what people really want!
The environment is in endangered. Industries across the world are talking about sustainable initiatives, whereas the Indian real estate industry is yet to grasp how green buildings can positively affect the value of their properties.
While India is slowly beginning to resume its economic activities, many developers see this as an opportunity to shift their design and development strategy.
As per industry estimates, for new buildings, India's green building market is projected to be in the range of US$ 30 Billion to US$ 40 Billion. Almost three fourth of the buildings to be constructed in India by 2030 are yet to be built.
The tangible benefits from green building projects might not be easily recognisable, it pays back only if you have a long-term perspective.
Here's a quick touchdown on the top 6 things the real estate professionals must be familiar with:
Profitable, cost-effective and good for the economy:
The topmost trigger for green buildings in India is the increasing demand for healthy living. Growing industrial sector, rapid urbanization strict environmental regulations, increasing population, growing government concerns and measures towards clean energy promotion, in an emerging economy like India are contributing to the growth of the green building market.
Profits are magnified with energy-efficient outfits and improvements, alongside energy consumption which can be controlled.
These investments can increase the bottom-line profits.
Generates Employment:
India's shift to a green economy could add 3 million jobs in the renewable energy sector alone by 2030, estimated the International Labour Organisation.
Graph: *Indiaspend2018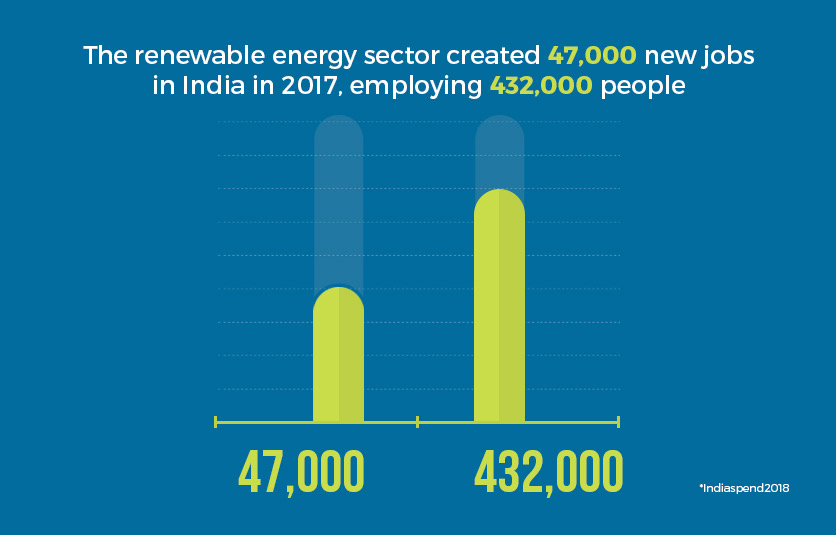 The renewable energy sector created 47,000 new jobs in India in 2017, employing 432,000 people
Hidden Revenue:
The particular way by which these projects become sustainable is through understanding the potential government benefits and tax relief one can gain. While it may be bewildering upfront, it will help you unlock your revenue and gain tax benefits. You can now learn more about governments initiatives towards green building online on (green building vanity link)
Energy Efficient
Energy saving is one of the key principles of green buildings. These projects are more energy efficient, using natural light and ventilation, causing less impact on the environment.
Green building is cheaper
The fusion of innovative technology and the use of environment friendly resources compels your building to be more dynamic, comfortable, productive and also serves as a healthier and safer living place for the building's inhabitants, attracting consumers looking for healthier living.
The materials used in green are not significantly new or unique, as they were existing for quite some time now and also these materials used are toxic free to a proportion.
LEED Certification:
Green building rating system and LEED certification are globally recognized and provides an added advantage to developers while positioning and promoting their project. These certificates indicate that the building meets the quality standards for air, water, light, sound, material, comfort, and nourishment. Green building that are LEED certified are considered to be a global solution for cities and communities.
LEED platinum certified green buildings in India as of April 2021, by size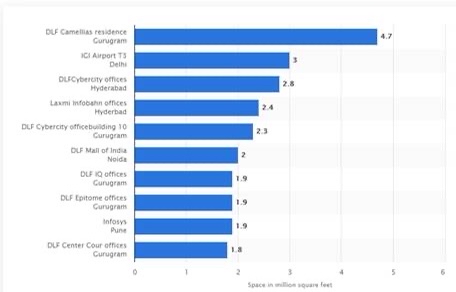 Companies that are conscious about Corporate social responsibility and sustainability seek ways to provide work environments that adhere to the highest environmental norms and standard.
Lack of knowledge in this field might prove to be a bottleneck.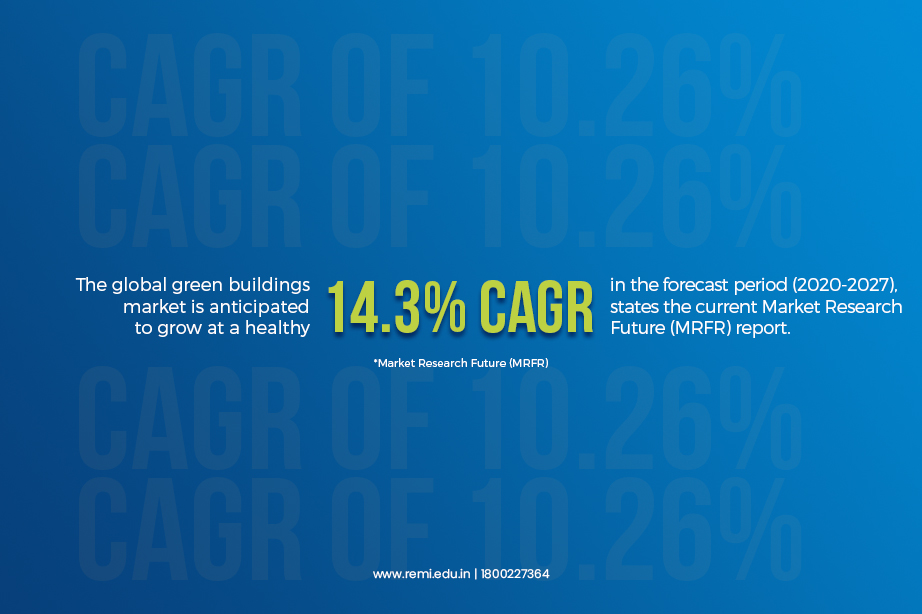 The global green buildings market is anticipated to grow at a healthy 14.3% CAGR in the forecast period (2020- 2027), states the current Market Research Future (MRFR) report.
We have an executive course Green Buildings and Rating Systems which will help you develop a futuristic mindset and learn from both conventional and modern techniques in order to build and live in a better environment.
---