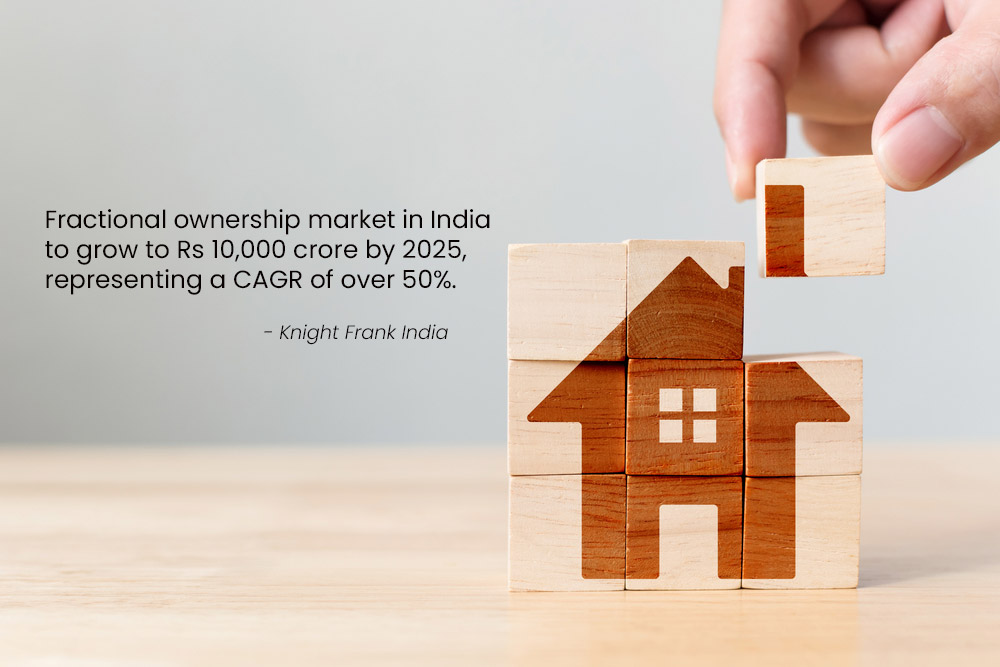 The Indian real estate landscape has traditionally been associated with high capital requirements, lengthy legal procedures, and the fear of an illiquid investment. Fractional ownership addresses these challenges, allowing investors to purchase a fraction of a property, typically managed by a professional management company.
Fractional Ownership Explained
Fractional ownership is a unique real estate investment model that allows multiple individuals to collectively own and enjoy the benefits of a high-value property. Under this arrangement, the property is divided into shares or fractions, and each investor purchases a portion of the asset. This innovative concept democratizes real estate ownership by making it more accessible to a wider range of investors, irrespective of their financial capacity.
Fractional Ownership Platforms Raise Funding
A number of fractional ownership platforms in India have raised funding in recent months. For example:
In August 2023, A fractional ownership platform based in India, raised ₹500 crore.
In September 2023, another fractional ownership platform with deep experience in institutional real estate and technology acquired a commercial property in Bangalore for ₹370 crore.
In October 2023, fractional ownership platform in hotel segment raised Rs 18 crore.
This funding is a testament to the growing interest in fractional ownership in India, and it is also a sign that the market is maturing and becoming more attractive to investors.
Factors driving growth of fractional ownership in India
A recent report by TruBoard Partners published in August 2023 stated that the market has grown from Rs 1,500 crore in 2019 to Rs 4,000 crore in 2023. This represents a Compound Annual Growth Rate (CAGR) of over 25%.
The growth is being driven by a number of factors, including:
Rising incomes and asset prices: India's middle class is growing rapidly, and with it, incomes and asset prices are rising. This is making real estate increasingly unaffordable for many people. Fractional ownership provides a way for people to overcome this affordability challenge and still own real estate.

Increasing urbanization: India is urbanizing rapidly, and this is leading to a growing demand for commercial real estate. Fractional ownership is a way for investors to gain exposure to this growing market without having to invest in entire properties.
Growing interest from foreign investors: Foreign investors are increasingly interested in investing in Indian real estate. Fractional ownership provides a way for them to invest in Indian real estate without having to go through the complex process of buying and owning entire properties.
Rise of online platforms: The rise of online platforms has made it easier for investors to learn about and invest in fractional ownership. These platforms provide a convenient and efficient way for investors to buy and sell fractional ownership shares.
Government initiatives: The Indian government has taken a number of initiatives to promote fractional ownership, such as relaxing foreign investment rules and providing tax benefits to fractional ownership platforms.

Real estate is a vast sector. Institute like Real Estate Management Institute (REMI) offers multiple programs to guide investors.
Read about the challenges faced by Fractional ownership

In conclusion, fractional ownership is heralding a new era in Indian real estate investment, promising exciting opportunities for both investors and the market as a whole. The significant growth projected by experts, with a CAGR of over 50% and the infusion of substantial capital into fractional ownership platforms, underscores its rising prominence in the Indian real estate landscape. As we move forward, the evolving landscape of fractional ownership is poised to unlock new horizons, making real estate investment more accessible, flexible, and lucrative for a broader range of individuals. This exciting journey continues to shape the future of real estate investment in India, bringing the dream of property ownership closer to reality for many.
---