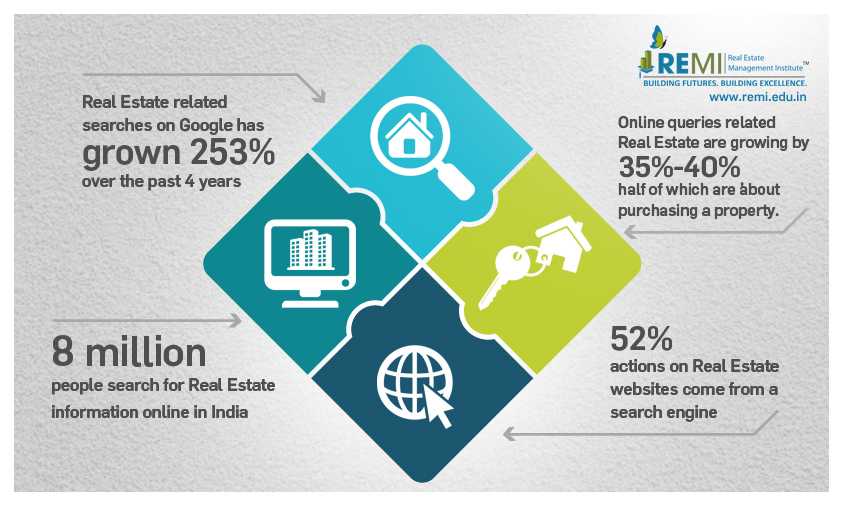 The real estate sector has seen a shift in consumption patterns over the last few years as a result of the growth in the adoption of the online and mobile channels by home purchasers.
It has been estimated that real estate related searches on Google have increased by 253% over the last 4 years with 8 million people searching for real estate information online in India.
Mumbai, Bangalore, Pune, Chennai, Delhi and Kolkata tend to be the most searched destinations for properties with most online purchasers in the 30 to 45 age group.
Some examples of portals that have seen a boost in their online sales include: Housing. Com in partnership with Mchi- credai that generated sales of Rs.250 crores during an online auction last Diwali. Tata Value Home has also sold over 400,000 square feet of real estate in sales valued at over Rs.350 crores through the online medium.
There are more then 100 active real estate portals, of which the top 5 real estate Portals are
1. Magicbricks (www.magicbricks.com)
2. 99acres (www.99acres.com)
3. Commonfloor (www.commonfloor.com)
4. Housing (www.housing.com)
5. Indiaproperty (www.indiaproperty.com)
With the increase in the number of internet and smart phone users in India, the online medium will continue to gain momentum for first time and seasoned property purchasers.
About REMI
REMI is a leading institute with two centers in Mumbai, that provides certification programs, executive courses and customized training workshops specially designed for the Real Estate Industry. REMI offers an international curriculum that trains students and professionals in global best practices through its collaboration with IREM®, USA.
For more details visit www.remi.edu.in
---