Negotiation skills have over time, emerged as the most desirable, sought after and required proficiencies that are expected of Project Managers.  . Here is quick summary that encapsulates this fine art.
To begin with "What is negotiation?"
"a process of potentially opportunistic interaction by which two or more parties, with some apparent conflict, seek to do better through jointly decided action than they could do otherwise"

(Lax and Sebenius, 1986, p 11)

 

"back-and-forth communication designed to reach an agreement when you and the other side have some interests that are shared and others that are opposed."

(Roger Fisher, William Ury, and Bruce Patton – Getting to Yes: Negotiating Agreement Without Giving In.)
Together these definitions define the same factor, that is – individuals with different perspectives trying to reach a mutual decision.
The truth is, most people are not born with great negotiation skills. In fact this is learnt through experience or observation.  Research has proved that one can also acquire this art through education, knowledge enhancement and skilling programs.     Here are some basics on Negotiation.
Negotiation Cycle – Planning | Interaction | Closure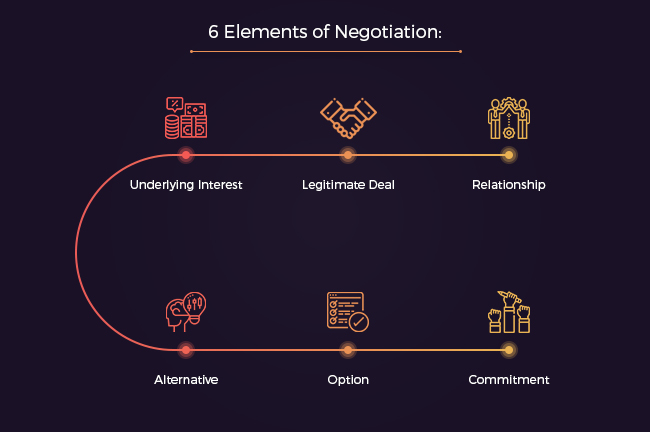 The entire negotiation process follows this path.
At first one has to start with trying to understand the underlying Interest of the negotiator in order to ensure that the conversation drives to a legitimate (fair) deal.

It calls for effective relationship management too as this is usually an ongoing relationship with your counterpart or and not to be considered as a one-time interaction. There is a way to effectively manage your relationship as your negotiation unfolds.
One has to ensure that there is mutual respect and at no point does your counterpart feel like you're taking advantage of him/ her.
Build a rapport while you drive the conversation – now that's really the way ahead!
When you are in the midst of it!
Harvard defines one of the elements in your negotiation process to be 'BATNA – Best alternative to a negotiated agreement' – If your current negotiation reaches an impasse, what's your best outside option? Always be aware of the alternate way if your deal doesn't pan out. Option is one of the other routes that can help you satisfy your interest, they are choices such as alteration in condition or trade etc. The success of your negotiation is hinged on your communication choices and is measured by the achievement of your commitment. Your commitment could be as small as deciding a meeting point to as big as closing a business deal!
Irrespective of the mode of negotiation you opt for, be it virtual or in person, you will partake in a communication process that begins with understanding the interest to probe the conversation.
While 'Closure' is most definitely the goal of any negotiation, remember – 'Never negotiate out of fear and never fear to negotiate!
---