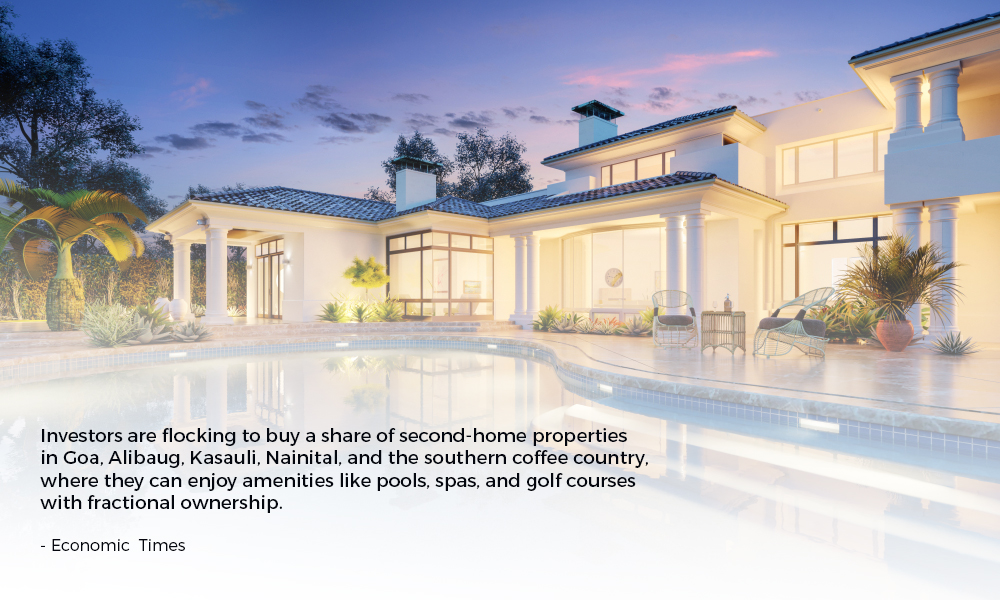 Following Part 1 of Fractional Ownership: Unlocking New Horizons in Real Estate Investment, let us explore the advantages and disadvantages of fractional ownership.
Advantages of fractional ownership
The Indian real estate landscape has traditionally been associated with high capital requirements, lengthy legal procedures, and the fear of an illiquid investment. Fractional ownership addresses these challenges, allowing investors to purchase a fraction of a property, typically managed by a professional management company.
Fractional ownership model offers several advantages:
Affordability: Fractional ownership makes upscale properties accessible to a broader segment of the population. Investors can purchase a share of a property that aligns with their budget, enabling them to participate in real estate investments they might not have considered otherwise.
Diversification: Diversifying your real estate portfolio has never been easier. Fractional ownership allows investors to spread their investments across different properties, reducing risk and increasing the potential for profit.
Asset Management: Property maintenance, security, and other operational aspects are handled by professional management companies, relieving investors of the hassles of day-to-day management.
Flexibility: Fractional ownership offers flexibility in terms of how and when you use the property. Many fractional ownership models provide a reservation system, enabling investors to book their preferred time for personal use.
Exit Strategy: Unlike traditional real estate investments, fractional ownership provides a clear exit strategy. Investors can sell their shares when they choose, offering liquidity that is often absent in direct property ownership.
Despite these benefits, fractional ownership still constitutes a relatively small portion of the Indian real estate market, with only a few players in the industry. However, as awareness grows, and regulations become more favorable, fractional ownership is poised for significant growth.
Challenges and Disadvantages of Fractional Ownership
While it offers numerous advantages, it also comes with its fair share of challenges. Let us delve into the key obstacles and complexities that co-owners may encounter in their journey to unlock the potential of fractional ownership in real estate.
Legal Complexities:Dealing with multiple co-owners can lead to legal complexities, including disputes over property usage, maintenance responsibilities, and decision-making rights. Clear and comprehensive legal agreements are essential to address these issues.
Management Issues: Effective management of the property is crucial in fractional ownership. Coordinating usage schedules, maintenance, and property enhancements can be challenging, especially when multiple stakeholders are involved.
Market Volatility: Fractional ownership models are relatively new in some regions, and the lack of clear regulations and tax structures can pose challenges for both investors and operators.
Legal Complexities:The real estate market can be subject to fluctuations, impacting the value of the fractional ownership shares and returns on investment. Co-owners must be prepared for potential market downturns.
Limited Control Co-owners may have limited control over property decisions and management processes, as these are often delegated to professional management companies, which can be a disadvantage for some investors seeking more control.
Addressing these challenges is essential to ensure the success and sustainability of fractional ownership models in the real estate market. Institutes like Real Estate Management Institute (REMI) play a crucial role by offering programs that guide investors through the intricacies of this evolving landscape.
In conclusion, fractional ownership in India is an exciting development in the real estate sector. It democratizes property investment, making it more inclusive and flexible. As more investors explore the advantages of fractional ownership, it's likely to become a more significant part of the real estate landscape, offering an alternative investment avenue that aligns with the changing dynamics of property ownership and investment.
---